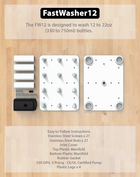 Product Details
No doubt about it...Filling bottles: Fun. Emptying them: Even more fun. Cleaning and sanitizing bottles for your next batch of wine or homebrew: No fun at all.
Until now, that is. Introducing the FastWasher12 -- the hands-free, high-capacity bottle cleaner and sanitizer that will change your bottling game forever. Simply load 12 bottles onto the durable, brewer-designed rack, then turn on the washer and let the powerful pumps do all the hard work. No scrubbing. No nonsense. No mountain of empties to wash and sanitize by hand ever again!
The FastWasher12 is your Get Out of Chores Free card. Engineered from high-density plastic, it's easy to assemble in minutes using just a Philips screwdriver. The cleaning rack fits a wide range of 12 to 22 oz bottles (330 to 750 ml). And because it cleans 12 bottles all at once, it cuts your bottle washing time in half and shaves 90% off sanitizing time. That frees up more time for the fun stuff...which is what homebrewing and winemaking are all about.
So say "Buh-bye bottle brush!" and hello to your new best friend: FastWasher12, the bottle cleaner and sanitizer of your dreams.
Compatible with
FastRack Wine Rack
(not included) for easy, cartridge-style loading, unloading, and drying. 
For standard-sized
12 oz beer bottles
, check out
FastWasher24!
For more time-saving, creative solutions to everyday cleaning and fermenting check out our full lineup of FastFerment and FastWasher products!
Great bottle washer
This bottle washer is easy to set up, efficient and fast. It is definitely a step up for anyone who needs to clean lots of bottles at once.
FastWasher12 Bottle Washer
FastWasher 12 Bottle Washer
While I really like this product, it has a significant weak spot. The threading point to the pump broke on mine the third time I used it. We were able to creatively repair it, but it broke again the second time we used it after that and could not be fixed. I liked it enough to order a replacement and hope with extreme care it will last.
Fantastic but needs a few small fixes
Much better than dunking bottles in starsan. Cuts bottling time down significantly. Get the tote, get several racks, and get the tub for those racks so the clean bottles have somewhere to drip. 4/5 because no switch on the pump. Bought a remote operated switch to make this really work well. Get a brush too if you're reusing bottles - this doesn't clean as well as I'd hoped.
Game changer!
Wow! Absolutely love this product. It saves so much time and energy when getting our bottles ready to fill. The product is easy to put together and it works great! Our bottles were cleaned and sanitized in 10 minutes. I'm so glad that we purchased this product, and I definitely recommend this product to others. Thanks.